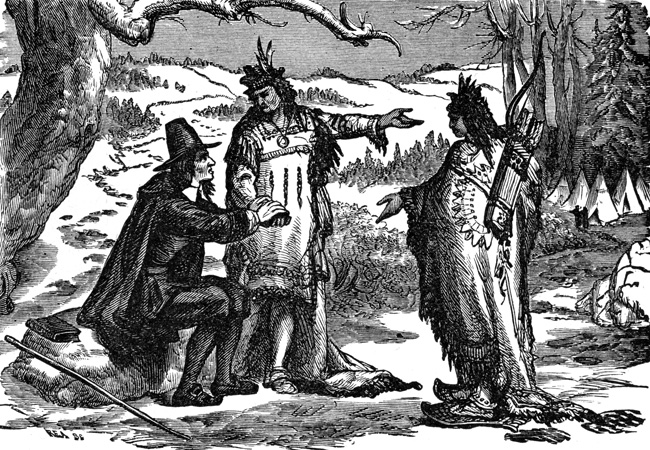 Ingredients
8 quarts cold water
1 turkey carcass, meat removed, leaving some crisp skin on if possible
Mirepoix:

1 medium onion, chopped
3 stalks celery with tops, chopped
1-2  carrots, chopped
2 small heads garlic, cut in half horizontally

Sachet d'epices:

1 tsp. or so black peppercorns, cracked
6-8 parsley stems, chopped
1 bay leaf
1/2 tsp. dried thyme leaves
1/2 tsp. dried tarragon leaves
1/2 tsp. dried oregano leaves
1/2 tsp. dried basil leaves
The above ingredients are placed into a 4″ square of cheesecloth and tied into a sack, or use a metal tea ball.
Preparation
Break up the turkey carcass, and don't be afraid to crack some bones in half. Put the carcass in the stockpot with the water and bring to a simmer. Periodically skim off any scum that forms. Savor the aroma of distilling turkey essence that must now be filling your house.  Let simmer for two hours.
Give thanks to the pilgrims and natives. Reflect on the pilgrim times gone by when there was enough maize to go around, the world was new, and land was plenty. Try not to think about the atrocities and land stealing of later times. This is Thanksgiving! Appreciate the cake walk that is your life. If you came of age in the early pilgrim days you'd likely be starved and freezing, relentlessly hustling just to survive the winter, the rest of your family dead from the misery-laden boat ride over. Why did you sign up for this shit again? I digress. Back to the stock.
Add the mirepoix and sachet; Simmer for one more hour. Don't stir the stock at this point. The end result will be much clearer if it is not agitated while simmering.
Strain thoroughly; the best way to do this is to ladle the stock out and pour it through a strainer which has been lined with a couple of layers of damp cheesecloth.  Refrigerate overnight. Skim off fat that has solidified on the surface before using.
Makes about 6 quarts of stock and one tasty jump off  for turkey sausage gumbo.
Original recipe courtesy of Gumbo Pages