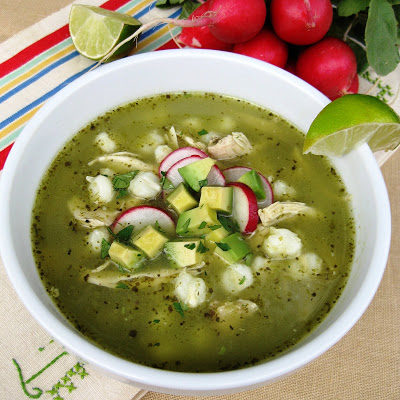 Ingredients
4 poblano chiles, stemmed and seeded
6 jalapenos
4 tomatillos, shelled and halved
1 large yellow onion, chopped
3 celery stalks, chopped
2 large potatoes, diced into cubes
1 carrot, chopped
3 large cloves garlic
2 cups whole hominy, canned or cooked
2 cups white corn kernels
1 qt chk or veg stock
2 cups milk
2 Tbsp butter
1 tsp whole cumin seed, roasted and ground
1 tsp white pepper
1 tsp mexican oregano
1 bay leaf
2 Tbsp. olive oil
1 cup cilantro, chopped
2 roma tomatoes
Preparation
Cook chicken in skillet w/ olive oil, salt, pepper, dash cumin, etc. Set aside to cool, then shred with hands.
Place poblanos and tomatillos in broiler until skin blisters. Let poblanos sweat in closed container. Set tomatillos aside to cool. Remove poblano skins. In blender, place poblanos, tomatillos, jalapenos, garlic, 3/4 cup cilantro, 1 cup stock, cumin, oregano, salt and pepper. Puree and set aside.
In big pot, heat olive oil to med high.  Add onion, celery, bay leaf and sautee for 5 min.  Add remaining stock and the puree and bring to a boil.  Reduce heat to low and cook 5 more minutes. Add potatoes, carrots, corn, hominy and red bell pepper and cook another 20 minutes.  All ingredients should be tender. Don't over cook. Stir in milk and butter and cook 5 more minutes.  Add chicken. Garnish with tomato and cilantro.
Serves 8