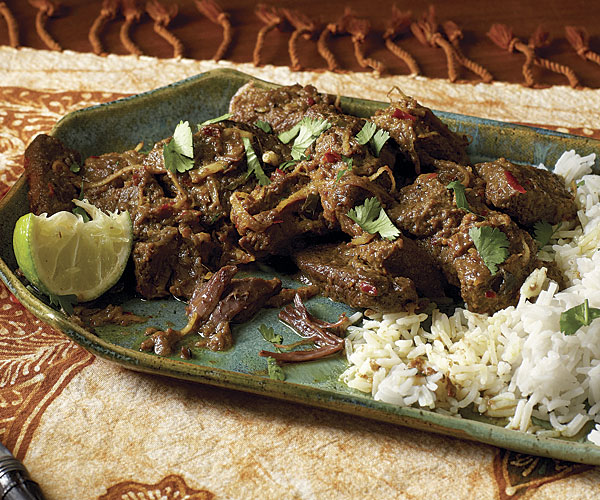 Ingredients
Spice paste:
5 medium shallots, chopped (about 1¼ cups)
4 medium garlic cloves, chopped (about 1 Tbsp plus 1 tsp)
4-6 fresh red chilies (or rehydrated dried)
1 2-in. piece fresh or frozen-and-thawed galangal, peeled and chopped (about 2 Tbsp)
1 2-in. piece fresh ginger, peeled and chopped (about 2 Tbsp)
1 ½-in. piece fresh or frozen-and-thawed turmeric, peeled and chopped (about 1½ tsp fresh) – or substitute 2 tsp ground
3 candlenuts, toasted and ground (about 1 Tbsp) – can substitute macadamia nuts
Curry:
Part 1-
2 Tbsp oil (vegetable, canola, etc.)
1 ½ tsp ground coriander
4 green cardamom pods, crushed (or 1/2 tsp cardamom powder)
1/4 tsp clove powder
1 cinnamon stick
1 tsp cumin
3 star anise
Part 2-
2 lbs. well-marbled boneless beef chuck, cut into 1 1/2″ pieces
3 stalks lemongrass, white portion only (smashed)
2 1/2 cups coconut milk (about 1 1/2 cans)
3 kaffir lime leaves
2 tsp tamarind puree
1/3 cup desiccated coconut (finely shredded coconut)
2 tsp salt
1 Tbsp palm sugar
Preparation
Place Spice Paste in food processor and blend until fine.
Heat oil over medium heat in wok or large pot. Saute spice paste and "Part 1" curry ingredients until aromatic.  Add beef and lemongrass and stir until beef is lightly browned. Add remaining "Part 2" curry ingredients. Stir to combine and bring to simmer.
Reduce to low heat, continue to simmer until sauce is reduced and the color turns to dark brown (about 3 hours). Add water throughout cooking if dry. (The end result should be a dry curry, not saucy).
Remove lime leaves, lemongrass, cardamom, and anise. Serve with white rice.