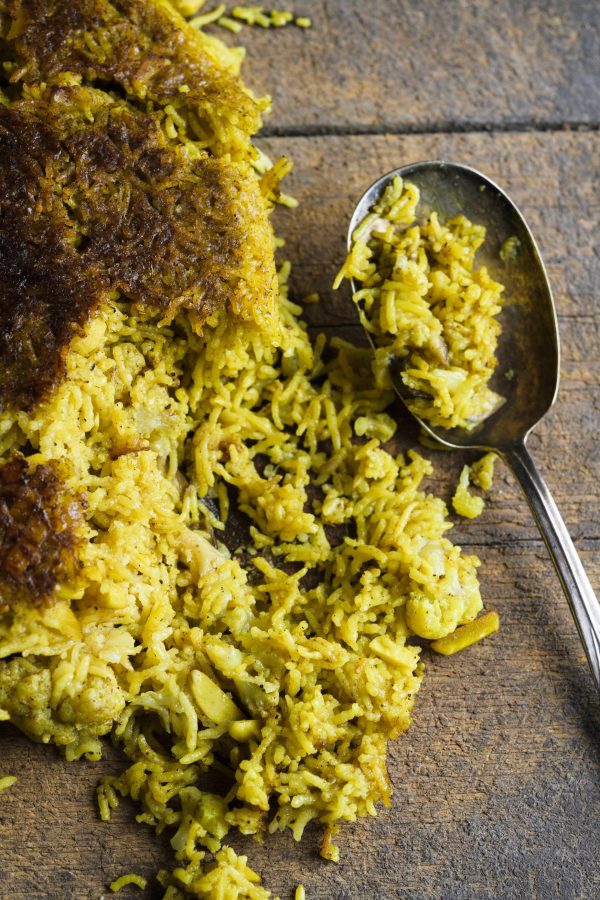 Makes 8 servings.
Ingredients:
2 cups basmati rice
Kosher salt and ground black pepper
1½ lbs. bone-in, skin-on chicken thighs, trimmed
4 Tbsp. extra-virgin olive oil, divided
1/3 cup slivered almonds
8 oz. cauliflower florets (1-inch pieces)
8 medium garlic cloves, chopped
4 Tbsp. (½ stick) salted butter, melted
4 tsp. ground cumin
1 Tbsp. ground allspice
2 tsp. ground turmeric
1 tsp. grated nutmeg
½ medium eggplant (about 8 oz.), sliced into ¼-inch-thick rounds
1 qt. low-sodium chicken broth
Preparation:
In a large bowl, combine the rice and 2 Tbsp. salt. Add water to cover by 1 inch, then set aside. Have ready a lidded pot that measures 9½ to 11 inches in diameter and 4 to 6 inches deep. Cut 2 rounds of kitchen parchment the same diameter as the pot.
Season the chicken all over with salt and pepper. Set the pot over medium and heat 1 Tbsp. of the oil until shimmering. Add the chicken skin-side down and cook until browned, about 10 minutes. Transfer to a plate and set aside. Remove the pot from the heat. Place 1 parchment round on the bottom, then turn to coat it with fat.
Add the remaining 3 Tbsp. oil to the parchment-lined pot, then sprinkle evenly with the almonds. Drain the rice in a fine-mesh strainer, then rinse under cool running water and drain again. Scatter 1 cup of the rice in a thin, even layer over the almonds. In a medium bowl, mix the remaining rice with the cauliflower, garlic, butter, cumin, allspice, turmeric, nutmeg, and 1¾ tsp. each salt and pepper. Reserve ½ cup of this mixture, then distribute the remainder in an even layer in the pot.
Place the chicken in the pot, slightly nestling the pieces into the rice-cauliflower layer; discard any accumulated juices. Shingle the eggplant slices over the chicken in an even layer. Sprinkle with the reserved ½ cup rice.
Pour the broth into the pot (it will not fully cover the eggplant), then bring to a boil over medium-high. Lay the second parchment round against the surface of the pot's contents, then cover with the lid. Cook for 5 minutes, reduce to low and continue to cook undisturbed for 35 minutes.
Remove the pot from the heat, uncover and let stand for 15 minutes. Remove the parchment, then invert a serving platter onto the pot. Holding the platter against the pot, carefully invert the two together; leave the pot overturned on the platter and let rest for about 10 minutes. Slowly lift off the pot and, if needed, remove and discard the parchment.
Adapted from Christopher Kimbell's Milk Street