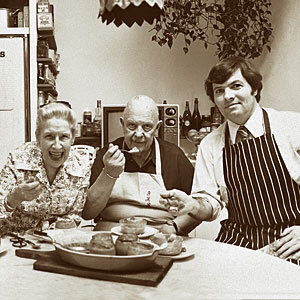 Ingredients
1/4 pound thick-sliced bacon
6 cups water
1 stick butter
1 3lb fryer, cut into pieces
1 1/2 tsps salt
1/2 tsp pepper
1/8 tsp thyme
24 small white onions, peeled
2 cloves garlic, pressed
1/2 lb fresh mushrooms, halved
1/3 cup brandy
2 cups red wine (pref Burgundy)
1 cup chicken broth
1 bay leaf
4 tbsp flour
2 tsp parsley, finely chopped
Preparation
In a saucepan, simmer bacon in water 10 minutes. Drain, rinse in cold water, and dry on paper towels. In a Dutch oven, sauté bacon in 4 tbsp butter 10 minutes. Dry chicken well and season with 1/2 tsp salt, 1/4 tsp pepper, and thyme. Remove bacon and brown chicken. Remove chicken and sauté onions and garlic 5 minutes. Remove onions and garlic and sauté mushrooms 3 minutes. Remove mushrooms and discard remaining butter.
In a small saucepan, warm brandy. Remove from heat, ignite, and pour into Dutch oven. After flame dies, add wine, broth, bay leaf, 1 tsp salt, and 1/4 tsp pepper. Return bacon, onions, garlic, mushrooms, and chicken to pot. Cook until sauce begins to bubble. Cover, reduce heat , and simmer 45 minutes.
Remove chicken and onions from pot. In a separate pot, melt remaining 4 tbsp butter and gradually add flour, stirring constantly until roux is dark brown. Remove bay leaf. Add to sauce, mix well. Return chicken and onions to pot and simmer 15 minutes. Transfer to a deep dish and sprinkle with parsley.
Serves 4