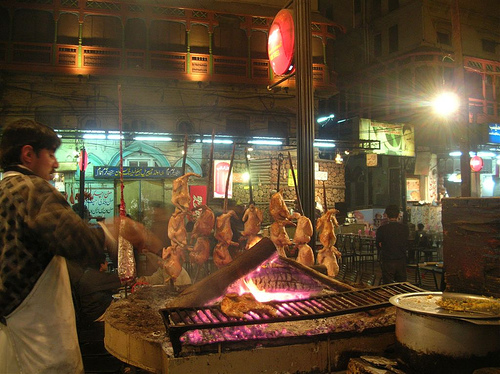 Ingredients
4 pound chicken, cut into 8 to 10 pieces and skinned
3/4 teaspoon turmeric
3/4 teaspoon cayenne pepper
Salt
1 1/2 medium onions, roughly diced
5 garlic cloves
2-inch piece fresh ginger, peeled, cut in half crosswise
3 tablespoons canola oil
2-inch piece cinnamon stick
12 green cardamom pods
9 whole cloves
9 black peppercorns
2 large tomatoes, chopped
2 tablespoons tomato paste
1/4 cup plain yogurt, whisked until smooth
1 cup water
1/2 cup chopped fresh cilantro
Juice of 1 lemon
Preparation
Combine the chicken, 1/2 teaspoon of the turmeric, 1/2 teaspoon of the cayenne, and 1/4 teaspoon salt in a bowl and stir to coat the chicken with the spices. Let stand while you make the sauce.
Finely mince the onions, garlic and ginger in a food processor and set aside.
Combine 2 tablespoons of the oil, the cinnamon, cardamom, cloves, and black peppercorns in a large casserole over medium-high heat. Cook, stirring until the cinnamon unfurls, 1 to 2 minutes. Add the minced onion mixture and 1 teaspoon salt, and cook, stirring, until the onion browns around the edges, 10 to 15 minutes.
Remove and discard the cinnamon and stir in the remaining 1/4 teaspoon turmeric and 1/4 teaspoon cayenne. Add the tomatoes and tomato paste and cook, stirring, 5 minutes. Transfer to a food processor or blender and puree until smooth; set aside.
Heat the remaining 1 tablespoon oil in the same pan over medium-high heat. Add the chicken and cook, stirring, 2 minutes. Add the yogurt 1 tablespoon at a time and stir well after each addition. Cook, stirring, 2 minutes to evaporate some of the moisture.
Add the pureed tomato mixture and bring to a boil. Stir in the water. Return to a boil, then reduce the heat and simmer, partially covered, until the chicken is cooked through, about 30 minutes. Stir and scrape the bottom of the pan every 5 to 8 minutes to keep the sauce from sticking. Then uncover and cook for 5 more minutes to reduce and thicken the sauce. Stir in the cilantro and lemon juice. Taste for salt and serve hot.