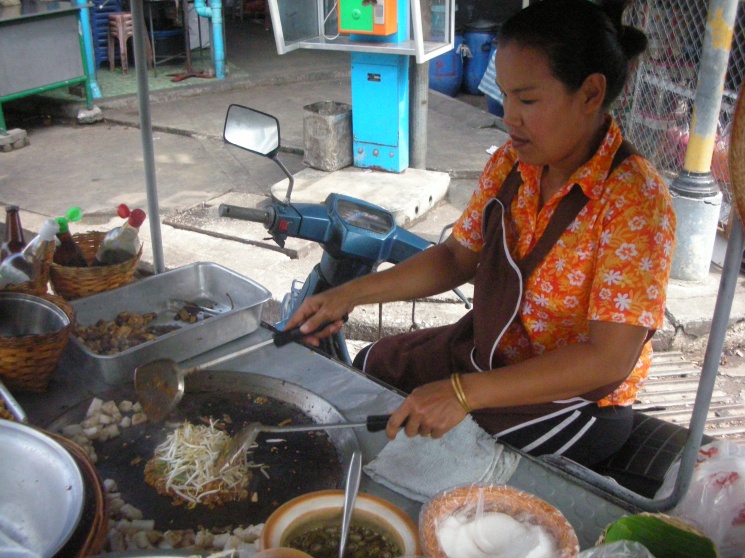 Ingredients
Sauce
1/2 palm sugar disc (about 1 oz)
1/2 cup water
1/4 cup fish sauce
1 tablespoon tamarind concentrate
Sriracha hot sauce
Pad Thai
1/2 box pad thai noodles (about 7 oz)
1/2 package extra firm tofu, squeezed of liquid and diced
2 eggs
1 small shallot, chopped fine
1 Tbsp salted radish, shredded
4 green onions, sliced lengthwise then chopped into 2 inch pieces
1 cup bean sprouts
1/2 cup peanuts, chopped
1/2 cup cilantro, chopped
1 recipe Pad Thai sauce
Vegetable oil
Lime
(optional 1/2 lb of diced chicken or shrimp)
Preparation
In small saucepan, simmer water and palm sugar until dissolved. Add tamarind and fish sauce, and stir to combine. Add Sriracha to taste (about 2 Tbsp). Set aside.
Fill large bowl with warm water and let noodles soak approximately 15 minutes.
Heat 1 Tbsp oil in large non-stick pan over medium heat. Fry tofu until golden on all sides, set aside. Saute meat and set aside (if using). Wipe pan clean, add more oil if needed. Scramble eggs, set aside. Wipe pan clean.
Heat 1 Tbsp oil over med-high heat. Saute shallot and salted radish 2-3 minutes. Add drained noodles and combine. Pour in about 1/2 of the Pad Thai sauce and stir constantly to coat noodles thoroughly. Stir fry about 5 minutes, add more sauce if it starts to dry out too much.
Add green onions, tofu, cooked meat, and eggs. Combine well for about 3-5 minutes, add more sauce if needed. Turn off heat, add bean sprouts, peanuts, and cilantro. Squeeze 1/2 of lime and serve.
Serves 2