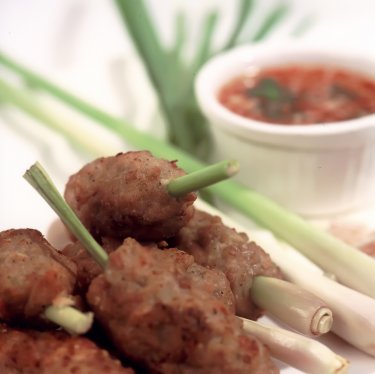 1st place Winner! – Olympique 2013
Team Thai-Juan, representing Thailand and Mexico, took home Best Dish honors with this simple Thai street food staple. Basically, we wrapped some ground chicken and pork around lemongrass spears, threw em on the grill, and slapped on some peanut sauce before serving. Fire!
Ingredients
1 1/2 cups sliced shallots (about 10)
1/2 cup shredded dried unsweetened coconut (can be toasted coconut found in supermarkets)
1/2 cup chopped fresh cilantro
6 garlic cloves, peeled
6 kaffir lime leaves, thinly sliced
2 fresh Thai chiles, stemmed
1 1-inch chunk fresh galangal,
sliced 2 Tbsps vegetable oil
1 lb boneless chicken thighs with skin, cut into 1-inch pieces
1 lb ground pork
1 tsp salt
16 whole fresh lemongrass stalks
1 package Lobo Satay Mix (peanut sauce!)
Preparation
Grind first 7 ingredients in processor to coarse paste. Do not clean processor.
Heat oil in medium skillet over medium heat. Add paste to skillet; Saute paste about 5 minutes; transfer to large bowl and cool.
Add chicken and salt to processor; grind coarsely. Add ground chicken and pork into paste in bowl.
Clean lemongrass by removing outer layer(s), wash and remove the tips. Press 1/4 cupful of meat mixture around thick portion of 1 lemongrass stalk in 4-inch-long sausage shape, leaving 1 inch of stalk end exposed. Repeat with remaining chicken mixture and stalks.
Prepare barbecue (medium-high heat). Grill until chicken is cooked through, turning often, about 8 minutes. Serve with warm peanut sauce.
Adapted from importfood.com/recipes/chicken_lgrass_skewers.html