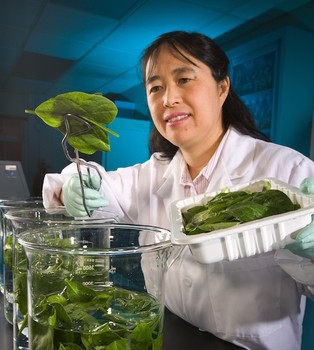 You can use the bag baby spinach, sold in 5-ounce packages in most supermarkets. If you prefer bunched baby spinach, make sure to wash and dry the leaves well.
Ingredients
5 ounces baby spinach (about 6 cups)
2 slices bacon (about 2 ounces), cut into 1/4-inch pieces
1 tablespoon extra-virgin olive oil
1/2 small red onion , minced (about 1/2 cup)
1/4 teaspoon table salt
1/8 teaspoon ground black pepper
1/8 teaspoon granulated sugar
1 tablespoon balsamic vinegar
Preparation
Place spinach in large bowl. Fry bacon in small skillet over medium heat until crisp, about 5 minutes; transfer with slotted spoon to paper towel–lined plate, leaving fat in skillet. Return skillet to medium heat and add oil, onion, salt, pepper, and sugar. Cook, stirring occasionally, until onion is slightly softened, 2 to 3 minutes. Add balsamic vinegar; swirl to incorporate. Pour warm dressing over spinach and toss gently to wilt. Sprinkle bacon over spinach; serve immediately.
Serves 4 as a first course