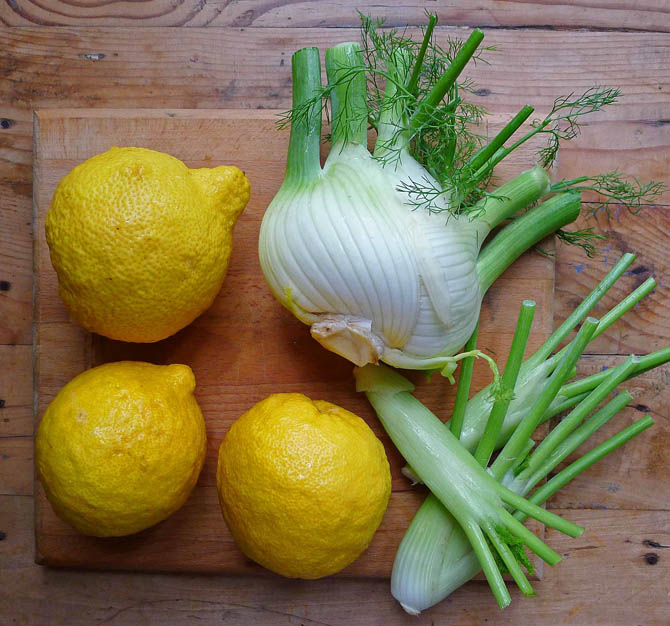 Meyer lemon dressing
1/2 cup orange juice
2 Tbsp. White balsamic vinegar
1 1/2 tsp. Dijon mustard
3/4 tsp. Kosher salt
2 Tbsp. Meyer lemon juice
Grated zest of 1 Meyer lemon
3/4 cup rice bran oil or canola oil
Salad
1/2 fennel bulb
2 heads butter lettuce
1/4 cup Fresh tarragon leaves
2 Tbsp. Minced shallots
2 Tbsp. Minced chives
2 Tbsp. Minced flat parsley
1/2 c. Meyer lemon dressing
Kosher salt
Black pepper
2 oz. Pecorino, thinly shaved, about 1/2 cup
12 to 16 pieces candied Meyer lemon zest
Preparation
Dressing

Pour orange juice into small saucepan and reduce over med-high heat until syrupy, 5 to 7 mins. You should be left with about 1 Tbsp.
Combine all ingredients except oil in blender. With blender running, slowly add oil in slow steady stream until emulsified. Makes 1 cup.
Salad
Using mandolin, carefully slice the fennel into paper thin shavings.
Tear butter lettuce into pieces, place in large bowl. Add all herbs & seasonings, toss with dressing to coat.
Top with shaved Pecorino and candied zest.