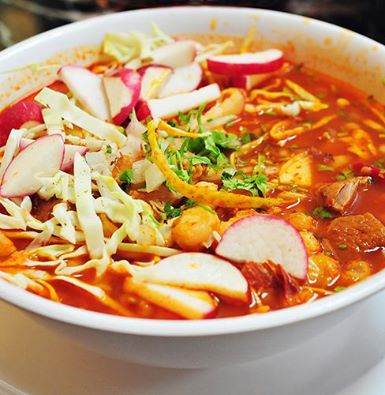 Ingredients
1 1/2 tsp salt
2 tsp paprika
1 tsp black pepper
2 lbs boneless Boston butt pork roast (or tenderloin)
2 cups chopped onion
3 carrots, chopped
1 bell pepper, chopped
3 garlic cloves, minced
1 1/2 cups water
1 (14-ounce) can low-salt beef broth
1 (14-ounce) can fat-free, less-sodium chicken broth
1/2 cup raisins
1 tsp ground coriander
1 tsp ground cumin
1 tsp dried oregano
1 (14.5-ounce) can no salt-added stewed tomatoes, undrained
1 (7-ounce) can chipotle chiles in adobo sauce
2 (15.5-ounce) cans golden hominy, drained
1 1/4 cups shredded Boston lettuce
2/3 cup unsalted baked tortilla chips
2/3 cup minced fresh cilantro
2/3 cup thinly sliced radishes
Preparation
Combine 1 tsp salt, paprika, and pepper. Trim fat from pork. Cut pork into 2-inch pieces; trim any additional fat. Combine pork and paprika mixture, tossing well to coat.
Heat a large Dutch oven over medium-high heat. Add pork; cook 5 minutes, browning on all sides. Remove pork from pan. Add onion, carrot, bell pepper and garlic to pan; sauté 3 minutes. Return pork to pan; stir in water and next 7 ingredients (water through tomatoes).
Remove 2 large chile and 2 1/2 tablespoons adobo sauce from can; reserve remaining chiles and sauce for another use. Remove seeds from chile; finely chop. Stir chile and adobo sauce into pork mixture. Bring to a boil; cover, reduce heat, and simmer 2 hours or until pork is tender. Remove pork from pan using a slotted spoon; place pork in a large bowl. Shred pork using 2 forks. Add tomato mixture to pork in bowl. Let cool to room temperature; cover and chill overnight.
Skim solidified fat from surface of stew. Combine the stew, remaining 1/2 tsp salt, and hominy in a large Dutch oven, and bring to a boil over medium-high heat. Reduce heat; simmer 5 minutes.
Ladle stew into bowls. Top each with lettuce, chips, cilantro, and radishes.
From Chris and Britta and adapted from myrecipes.com/recipe/posole-0