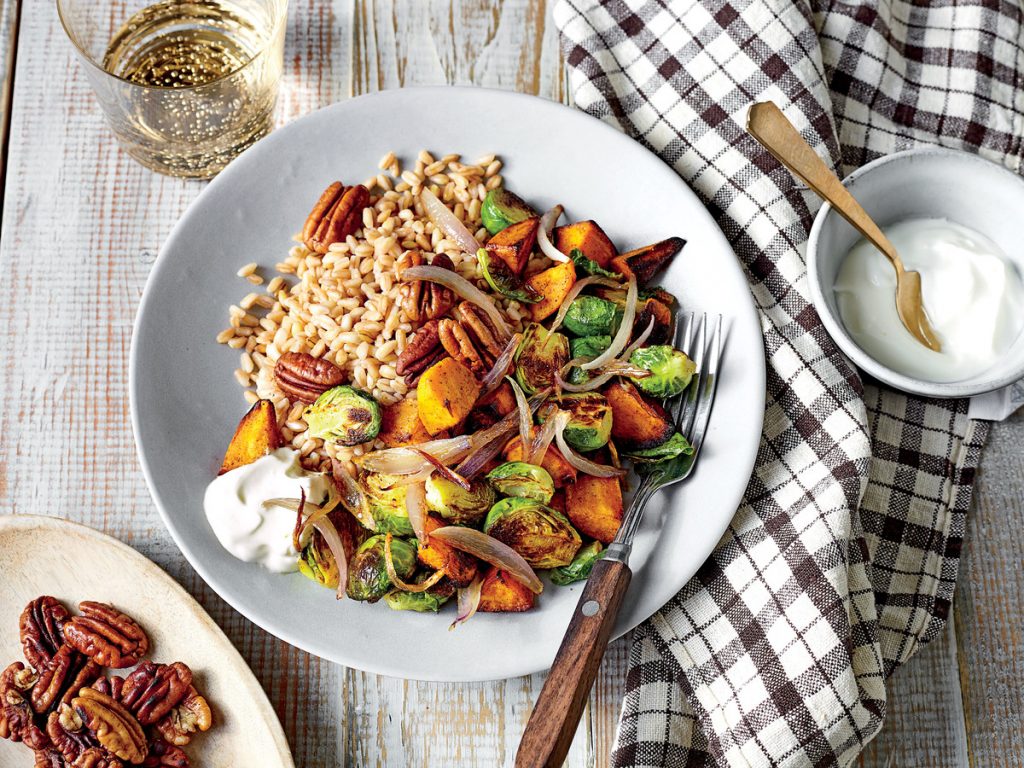 Ingredients
1 lb. Brussels sprouts, halved
12 oz. sweet potatoes, peeled and cut into 3/4-inch cubes (~3 cups)
2 large shallots, peeled and thinly sliced
3 Tbsp. butter, melted
1 Tbsp. curry powder
3 garlic cloves, minced
½ tsp. black pepper
1 ½ cups uncooked pearled farro, rinsed
½ cup plain whole-milk yogurt
1 Tbsp. fresh lemon juice
1 cup toasted pecan halves
Preparation
Preheat oven to 425°. Combine Brussels sprouts, sweet potatoes, shallots, butter, curry powder, garlic, pepper, and ½ tsp. salt in a large bowl. Toss to coat. Spread in a single layer on a large baking sheet. Bake until vegetables are tender and lightly browned, 20-25 minutes.
Bring 4 cups water and ½ tsp. salt to a boil in a medium saucepan over high. Add farro, and cook according to package directions; drain.
Mix yogurt, lemon juice and 1 Tbsp. water in a bowl for topping. Split farro into 4 bowls, and divvy up vegetables evenly on top. Add pecans and yogurt sauce.