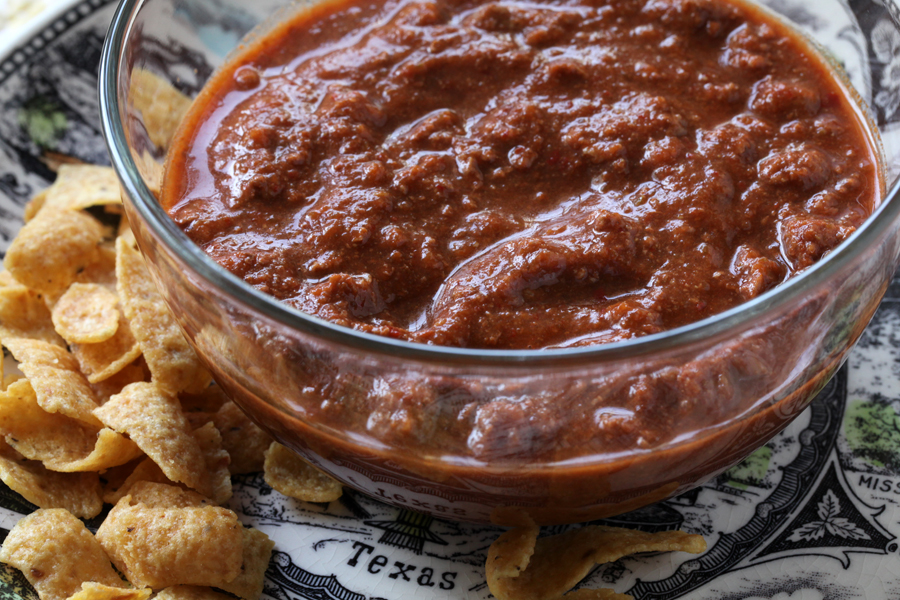 Chili Purée
Ingredients
5 ancho chiles
3 California chiles
2 pasilla chiles
4 small dried hot chiles
6 cloves garlic, roughly chopped
1 Tbsp. ground cumin
2 tsp. dried oregano
boiling water
Preparation
Heat a heavy skillet over medium and tear the chiles into flat pieces.  Toast them in the skillet, pressing down firmly with a metal spatula for a few seconds, until they crackle and change color.  Then flip them over and press down for a few seconds more.
Remove from skillet and cover the chiles with boiling water.  Cover and let soak for 30 minutes.
Transfer the chiles to blender jar, add 1 cup fresh water, garlic, cumin, and oregano.  Blend until smooth (I use emersion hand blender) and strain through a medium mesh sieve.  Should make almost 2 cups of puree.
Chili
Ingredients
2 lbs. coarse ground beef chuck
1 lb. coarse ground pork
1 medium chopped white onion
1 tsp. salt
1 can diced tomatoes
1 can beef broth
1 Negra Modelo beer or equivalent dark beer
1 recipe chili purée (see above)
hot water
Preparation
Over medium heat, brown beef and pork with onion, about 20 minutes.
Add can of tomatoes, cook down about 20 minutes or until most of the liquid has evaporated.
Add chili puree, stir for about 4-5 minutes.  Add salt, can of beef broth, and beer.
Bring to boil, lower heat, simmer, partially covered about 1 hour.
Taste and check for thickness.  If sauce thickens beyond consistency of heavy cream, add hot water.  Simmer for 1 more hour.