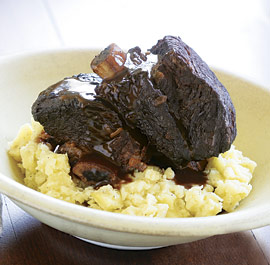 Ingredients
3-4 lb lean beef short ribs
1/2 cup flour
1 1/2 tsp paprika
1 tsp salt
1/2 tsp dry mustard
2 medium onions, sliced and separated into rings
1 clove garlic, chopped
1 cup beer, wine, beef broth (or water)
2 Tbsp flour
3 Tbsp water
Preparation
Place short ribs on broiler rack or in skillet and brown to remove fat; drain well.
Combine 1/2 cup flour with the paprika, salt and dry mustard; toss with short ribs.
Place remaining ingredients except 2 Tbsps flour and the water in slow cooker; stir to mix ribs with onion rings (be sure onions are under ribs – not on top). Cover and cook on Low for 8 – 12 hours or on High for 4 – 6 hrs.
Remove short ribs to warm serving platter. If thickened gravy is desired, make a smooth paste of flour and water. Turn slow-cooker to High and stir in paste. Cover and cook until gravy is thickened.
Serves 6.