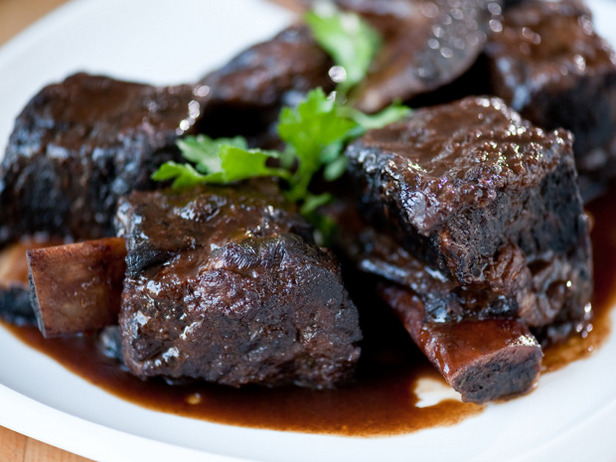 Short ribs cost a fortune around here, but hey, who's better than you? YOLO!! This preparation is an L Stockton special, and is quite good.
Ingredients
2 1/2 lb beef short ribs
2-3 Tbsp vegetable oil
1 yellow onion, chopped
2 stalks celery, chopped
2 carrots, chopped
3 cloves garlic, minced
2 bay leaves
6 sprigs fresh thyme
1 sprig rosemary
1 cup red wine
3 cups beef stock
Preparation
Heat oven to 275°. Season ribs with salt and pepper. Heat oil in dutch oven. Sear ribs on all sides 1-2 minutes per side. Do in batches if necessary to avoid crowding. Set aside.
Drain all but 1 1/2 Tbsp oil. Add onion, celery, carrots, garlic, bay leaf, thyme, and rosemary; sauté 3-4 minutes.
Add stock and wine. Return ribs back to pot. Liquid should come at least halfway up side of ribs. Bring to a boil.
Cover, place in oven and bake for 3 hours, flipping ribs halfway through to ensure an even braise.