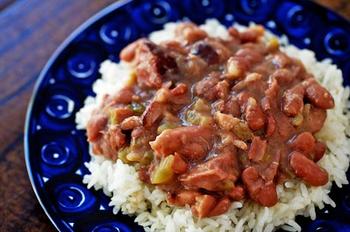 Finally documented my go-to read beans recipe today in the kitchen. It's cooking now, so we'll see if there's any need for adjustment to the below in a few hours. I usually get the beans going to a boil as I'm prepping the rest of the veggies.
Ingredients
1 lb dark red kidney beans
6 cups water
1/2 bottle red wine
1 large onion, chopped (3 cups)
1 large bell pepper, chopped (2 cups)
4-5 ribs celery, chopped (1 1/2 cups)
1 1/2 Tbsp. garlic, minced
4 bay leaves
1/2 Tbsp. fresh thyme
1 tsp. ground black pepper
1/2 tsp. cayenne pepper
2/3 lb. andouille sausage, chopped into 1/2 inch pieces
1/2 lb. ham, cubed into 1/4 pieces (ham hock, ham steak, something smoked and w/ a bone is best)
Gumbo filé
1/4 cup parsley, chopped
Optional Extras
1 carrot, diced
1 jalapeno, chopped
2-3 slices bacon, raw
Preparation
Soak beans in water overnight. Drain, rinse and place in stock pot with water. Bring to a boil.
Add everything except parsley.
Simmer uncovered for 4-6 hours, stirring occasionally.
Add parsley just before serving in a bowl under white rice. Add filé to taste. Cornbread and hot sauce is also encouraged.
Makes 12 servings.