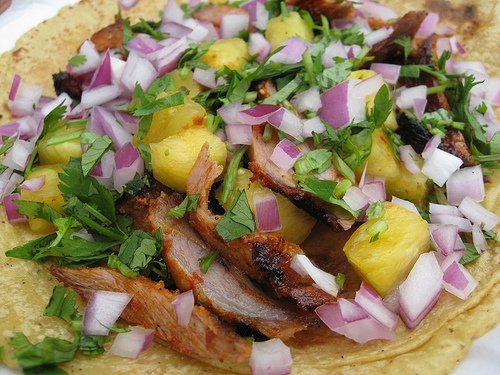 A popular taco filling in Mexico, pork al pastor is usually cooked in a huge slab on a vertical rotisserie (like Middle Eastern shawarma) and sliced off to order, so that the outside bits are crisp and golden and the inside is juicy and tender.  Since most of us don't have a vertical rotisserie hanging around, here's an "at home" method that replicates the flavors of an authentic al pastor taco.
Chili Marinade
Ingredients
2 dried ancho chiles
2 dried guajillo chiles
2 dried chipotle chiles or 2 canned in adobo
1/2 of a large onion
3 garlic cloves, unpeeled
1/4 c white vinegar
1/4 c orange juice (or lemonade or limeade)
2 tsp kosher salt
1 tsp dried oregano
1 tsp ground cumin
Preparation
Pour boiling water over dried chiles, soak for 30 minutes to reconstitute. Remove chiles from water, do not dispose of the water yet. Remove stems, slice open and remove seeds. Place in immersion blender jar.
Broil onion and garlic cloves in toaster oven for about 5-10 minutes or until slightly soft and brown in spots, place in blender jar.
Add about 1/2 c of the chile water to blender jar, purée until smooth, adding more chile water if needed to make a chili paste.
Strain chili puree through mesh strainer using a rubber spatula to push through.
Add salt, oregano, cumin, vinegar, and juice to strained chili paste. It should be the consistency of a thick tomato sauce.
Tacos al pastor
Ingredients
3-4 lb piece of pork butt or shoulder (I used Boston butt), sliced in thin slabs removing the excess fat
1 recipe marinade
1/2 fresh pineapple, peeled and cut into semi-circles
1/2 c fresh cilantro
1/2 c diced red onion
Tomatillo sauce (1/2 c jarred tomatillo salsa mixed with 1/2 of a mashed avocado)
lime wedges
corn tortillas
Preparation
Pound slabs of pork with flat side of mallet until very thin. Place in dish or resealable bag, and marinate in chili sauce for 24 hours.
Heat cast iron skillet over medium heat. Fry pieces of pork and pineapple slices for a few minutes on each side or until browned.
Remove from pan and let rest for a few minutes, then dice into small pieces.
Fill warmed corn tortillas with pork and garnish with pineapple, cilantro, red onion, tomatillo sauce, and a squeeze of lime.