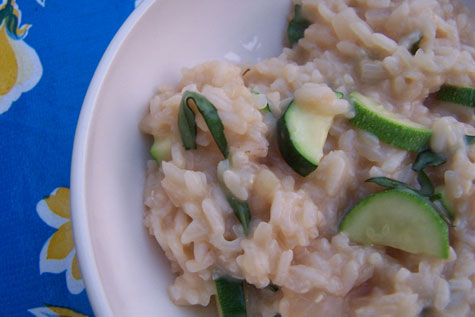 Ingredients
1 pint cherry tomatoes
1/4 cup olive oil
1 tsp. minced garlic
1 small onion, diced
2 cups diced zucchini
1/4 cup fresh lemon juice
1 lb. arborio rice
1 cup dry white wine
2-3 cups non-fat chicken broth
2 Tbsps. light butter
6 Tbsps. grated Parmesan cheese
 18 sea scallops
1 bunch parsley, chopped
Preparation
Heat oven to 250˚. Gently toss tomatoes in 2 tsp oil with a pinch of salt and pepper. Bake on a non-stick baking sheet 1 hour.
Heat 1 tsp oil on medium heat in a medium pan. Cook garlic and half the onion until translucent; add zucchini and cook 5 minutes. Pureé zucchini mixture in a blender with lemon juice and 1 Tbsp oil. Season with salt and pepper. Set aside.
Heat 1 Tbsp oil in a medium pot on medium heat and sauté remaining onion until translucent. Add rice and cook 2 minutes. Gradually pour in wine, stirring until rice absorbs wine. Add broth 1 cup at a time until absorbed, stirring continually for 20 minutes or until rice is tender (add more broth in necessary). Once rice is cooked, stir in zucchini pureé, butter and cheese. Set aside.
Heat 1 Tbsp oil in a small pan. Salt and pepper scallops and cook both sides until lightly browned. Add tomatoes and sauté 5 minutes. Spoon risotto on plate and top with scallops, tomatoes and parsley.
from self.com