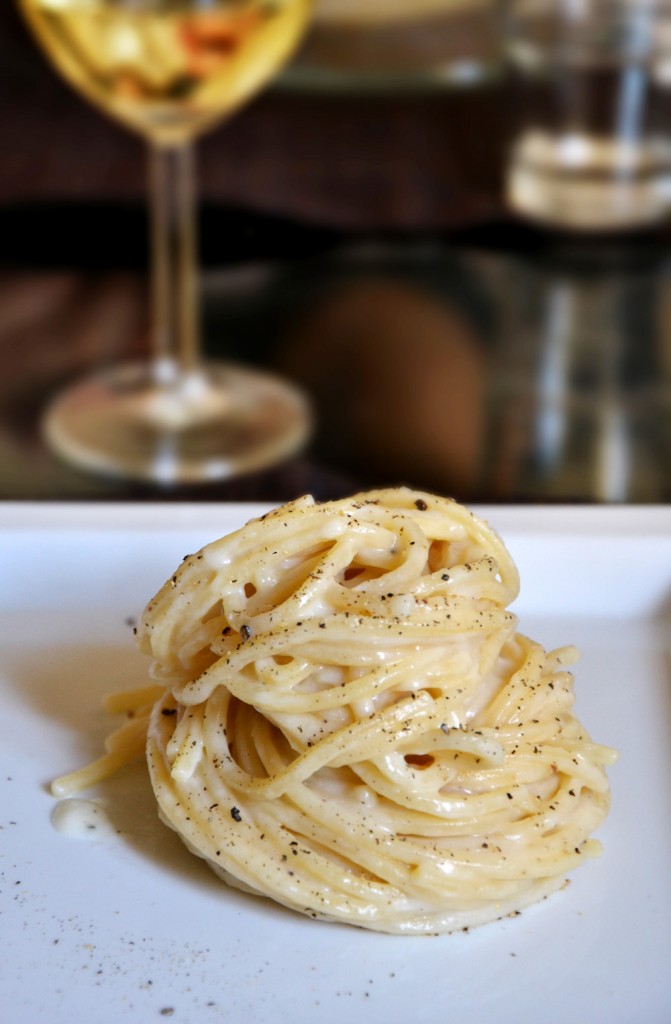 aka Spaghetti with Pecorino Romano and Black Pepper
from Cook's Illustrated, Jan & Feb 2010
Ingredients
6 ounces Pecorino Romano, 4 ounces finely grated (about 2 cups) and 2 ounces finely grated (about 1 cup)
1 pound spaghetti
Table salt
2 tablespoons heavy cream
2 teaspoons extra-virgin olive oil
1 1/2 teaspoons finely ground black pepper
Preparation
Place finely grated Pecorino in medium bowl. Set colander in large bowl.
Bring 2 quarts water to boil in large Dutch oven. Add pasta and 1 1/2 teaspoons salt; cook, stirring frequently until al dente (about 10 minutes).
Drain pasta into colander set in bowl, reserving cooking water. Pour 1 1/2 cups cooking water into liquid measuring cup and discard remainder; return pasta to now empty bowl.
Slowly whisk 1 cup reserved pasta cooking water into finely grated Pecorino until smooth. Whisk in cream, oil, and black pepper. Gradually pour cheese mixture over pasta, tossing to coat. Let pasta rest 1 to 2 minutes, tossing frequently, adjusting consistency with remaining 1/2 cup reserved pasta water. Serve, passing coarsely grated Pecorino separately.