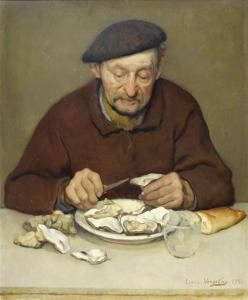 Ingredients
Pre made refrigerated pie crust
2/3 cup fine chopped celery
2/3 cup fine chopped vadilla onions
heaping tablespoon flour and same amount of oil for roux
1 link smoked andouille sausage chopped fine
1 pint fresh oysters  drained reserve water
1 cup chopped green onions
couple dashes worcestershire and hot sauce
Preparation
Let pie crust get room temp them line bottom of 9″ pan. Make roux the color of until brown paper bag.
Saute onions and celery until soft. Mix in roux, oysters and green onions. If too dry add a little oyster water…go easy not much. Pour into pie shell. Cover with pie crust top. Slit top about 12 cuts.
Bake at 350 for 45 minutes to 1 hr until brown. Let cool slightly before cutting to serve.